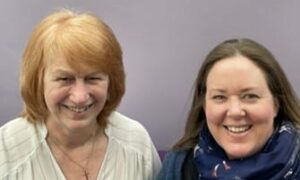 We are Mrs Knowles (left of picture) and Mrs Dally (right of picture) and we are the SENDCo's at Wreake Valley Academy. We have been SENDCo's for a very long time, and we have worked together at Wreake, and across other schools within the Bradgate Education Partnership, for the last 15 years!
Our role in the school is quite straightforward. We support students to be successful learners and we do this in a variety of ways including intervention, in class support, and working with outside professionals. There is no 'one size fits all' model of what we provide for our students.
If you have any questions or queries about what support might be available, or to discuss your child's needs in more detail, please do get in touch.  Our email is sendtransition@wreake.bepschools or you can call the school directly and ask to speak to us.
We are looking forward to meeting you.
Mrs Knowles (SENDCo & Inclusion Manager)
& Mrs Dally (SENDCo)