Theatre
Suitable for a range of events including plays, conferences and presentations, the theatre seats up to 220 in tiered seating, including provision for up to 4 wheelchairs. The Theatre has a large open stage and a lighting box. Please note, that any other equipment is not provided.
Catering may be available subject to the size of the booking and requirements – please call to discuss.
Wreake Valley Theatre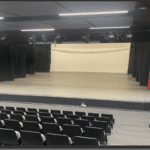 Wreake Valley Theatre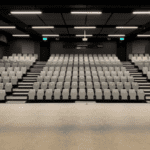 Football Centre
Our state of the art 3g Astro Turf Pitch that is a Tiger Turf Atomic Pro 60 is an outstanding football surface. That includes state of the art floodlight system, spectator areas including disability access and off-road parking.
The 3G Astroturf football pitch is available for community use from 5.00pm-9.50pm every weekday and weekends 8.00am-8.00pm.
Not only have we got a 3G Astro turf available we have several grass pitches too. We have the following pitches available.
Walking Football
Do you think your footballing days are over? WALK no further…
The 3G Astro Turf pitch isn't only for pupils to enjoy but also their parents too. We are looking to start Walking Football. Walking football is a modified version of association football that is aimed at keeping people aged over 50 involved but is also open to all ages. You may have stopped playing due to a lack of mobility or for other reasons and therefore not able to play the traditional game. There are now over 400 walking football teams in the UK, and a genuine buzz for the sport's future.
If you are interested in playing the new craze, come along to Wreake Valley every Monday 5.00pm – 6.00pm for £2.00 pay as you play.
Local Partnership Football Clubs
Two local grass root football clubs, Syston Town and Riverside Juniors are based at Wreake Valley Academy, using the new 3g pitch for training and matches. Both clubs are always looking for new young talent to join their teams for information see their  websites: www.riversideutdjfc.com (opens in new tab)
 and www.systontownjuniorsfc.com(opens in new tab)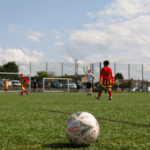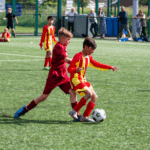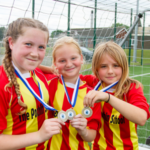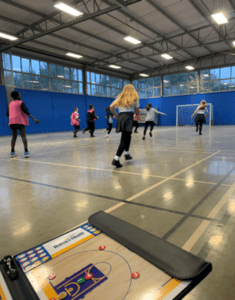 Sports Hall and Gym
Wreake Valley Academy are fortunate to have both a Sports Hall and Gym available for hire. The two indoor spaces can accommodate a variety of activities. This consists of basketball, Futsal (goals provided) netball, 4 badminton courts per hall (nets provided) and archery.
Please note that equipment, other than that indicated, is not provided and the use of soft balls only is compulsory.
For charges or to discuss alternative availability please call Ian Harrison on 07752898577 or email lettings for more information.